Tabunka Juku
Multicultural Cram School for Children in Connection with Foreign Countries.
【Time】 Every Friday  Japanese 17:00~18:20    Mathematics / English  18:30~20:00
【Tuition】 12,000 yen per subject (about 2,000 yen for textbooks per year separately)
"Osaka shi Jukudai-Josei Card" for Junior-high students. (subsidy system for after-school activities in Osaka city) is available. (subsidy of 10,000yen) For details, check: http://www.juku-osaka.com/  about_project_english.html/ Using this card, tuition for one course would be 2,000 yen.
【Classes】 
Japanese : Class for beginners/advanced class for daily communication(Listening/Speaking/Reading/Writing)
Math / English: Lesson in easy Japanese. From a basic level to a level of taking an entrance exam.
Lessons using past exam papers.(For students in need of  guidance in Japanese learning and returnee children)
【Feature】
-Small group instruction by qualified teachers who have experience with children in connection with foreign Countries. -Mother tongue support for lessons is available.
(Example :Learning material with translation.) 確率 かくりつ ka-ku-ri-tsu 概率 probability  सम्भावना
-Support for Entrance Exam for those who have studied for 9 years in their own countries.
【Location】 Isao-Bldg 4F,  1-12-23, Shinmachi, Nishi-ku, Osaka City, 550-0005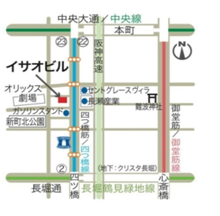 5-minute walk from "Yotsubashi Station" of Yotsubashi Line, "Exit2" Osaka Metro
5-minute walk from "Honmachi Station" of Yotsubashi Line, "Exit22,23" Osaka Metro
10-minute walk from "Shinsaibashi" (Shinsaibashi and Yotsubashi are connected each other.
If you use "Nagahori-Tsurumiryokuchi Line",please get off at Shinsaibashi Station.)
[Comments]
They use easy Japanese, so I could understand! -I was really glad to pass the entrance exam.
   I really appreciate Tabunka Juku. It was helpful that there was a Chinese speaker. 
   There were students from the same province as me. It was encouraging.
[List of Schools where our students who studied at Tabunka Juku entered]
They passed a high school entrance exam of Kadoma-namihaya, Fukui, Yaokita, Fusekita, Nagayoshi, Higashi-yodgawa,
Sumiyoshi, Asahi, Kaorigaoka-Liberte,koukou, Kansai-international High School, etc.!!
[Inquiry]
Osaka Kodomo Tabunka Center (NPO) Tabunka Juku
Address:  8F, CE Nishi Honmachi Bldg., 1-7-7 Nishi honmachi, Nishi-ku, Osaka City, 550-0005  Tel:  06-6586-9477
 Tabunka Juku E-mail: tabunkajuku@gmail.com 
[Request for Contribution]
We are happy to receive any contributions or donations to help us to provide mother tongue support. Feel free to contact us.
Japan Post Bank branch name: 408(Yon Zero Hachi) number of branch name : 408
Saving account Account number : 8111533 トクヒ) オオサカコドモタブンカセンター